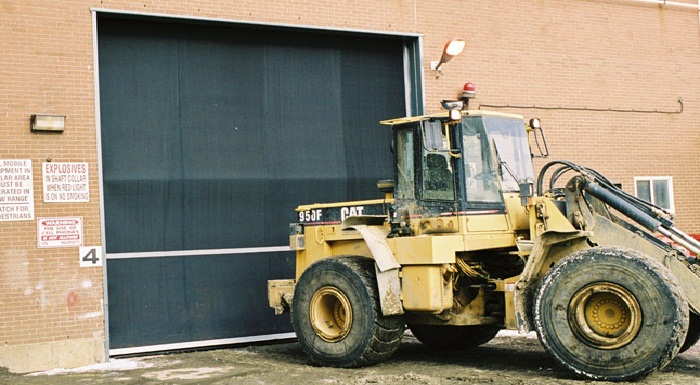 Examples of Applications: Manufacturing Process and Maintenance Buildings in: mining, petroleum, military, agriculture, pulp & paper and steel.
Features
All TNR industrial rubber roll-up doors feature:
1/4 " SBR rubber, polyester core weave
reliability in temperatures -40ºF to +180ºF
Patented NEWGEN Guide and Curtain Lok System. After an impact the door is up and running in minutes.
Sleek profile, easy installation, reduced clearances & minimal maintenance. No hinges, cables, pulleys or tension springs.
2 year warranty parts and workmanship
Limited lifetime warranty on curtain and NEWGEN Guide System.
Specifications of the HDM model (manual)
Suitable for applications up to 20 feet in width or height
Self-supporting steel mounting angle
Knock-away double angle steel bottom bar for 10lb/ft with rubber loop
Manual chain hoist
Counterbalance spring assembly cycle rating of 50,000
Specifications of the HDE model (economy)
Suitable for applications up to 20 feet in width or height
Self-supporting steel mounting angle
Knock-away double angle steel bottom bar for 10lb/ft with rubber loop
Frame mounted thru-beam photoelectric sensor
Heavy duty gear operator with push button controls open, close, stop
Door speed of up to 18 inches per second
Counterbalance spring assembly cycle rating of 100,000