We are proud to present you a list of satisfied customers who do business with us for a long time.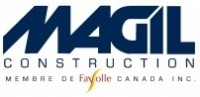 Magil Construction was founded in 1953 by Architect Louis B. Magil, with a vision of "Building on Excellence". At the time, Magil Construction specialized in residential construction and was responsible for building several hundred homes in the Montreal area. Most of them are still standing today. After five decades, Magil Construction has not wavered from the founder's original vision and has become one of the most accomplished and respected builders in Quebec.  The company regularly undertakes construction projects of all sizes, complexity. Outstanding performance on all of these projects has earned Magil Construction a strong and desirable reputation among developers, financial institutions, surety companies, design consultants as well as end users. In 2007, one of our most valued clients entrusted us with a major project in British Colombia, a challenge tackled with elegance, affording us to pursue our business there via Magil Construction Pacific. Recently, and in a perspective of growth, Magil Construction has passed ownership to the hands of Fayolle Canada, a subsidiary of Group Fayolle, a major construction company, entirely family owned, and as with us, of a long standing tradition. Established in Paris four generations ago, this French company has elected to pursue its development in Canada by way of acquiring well established companies with proven records. This is a significant step in the evolution of both companies.
General Contractor based in Montreal for over 25 years,  Norgéreq Ltd is still growing in the areas of public tenders in commercial and institutional construction, both in renovation and new construction. Founded in 1988 by three shareholders, Norgéreq Ltd in its first years of operation was working particularly in the management of civil engineering projects. Gradually, and in order to operate in building construction, Norgéreq Ltd has acquired the necessary tools in order to work as a general contractor.
Since its creation GESMONDE Ltd saw its sales double every year from small renovation and painting projects to major renovation and expansion of building projects.  Today, with all this experience in renovation, particularly in hospitals, the company orients and focuses its activities in institutional, industrial and commercial sectors, specializing in the following: Stewardship projects, turnkey projects and projects abroad. General Contractor in construction in several areas such as institutional, multi-residential and commercial, Gesmonde Ltd also offers services for project management or estimation.