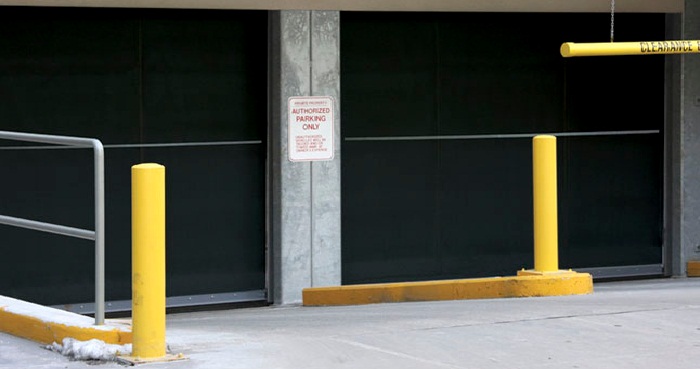 Introducing a springless low-headroom rubber roll-up door designed for use in underground parking applications for condos, office complexes, hotels and airports to name a few. This high performance door is best suited for any application where head room clearance is a concern. Maximum door width is 25' 0" and maximum door height is 10' 0" with a minimum requirement of 18" head room clearance. It is designed to take full impacts with little or no downtime and is easily reset from the floor without the use of special tools or parts. The Model HDP includes a high-efficiency helical gear head operator with a multi-function capacity PLC (programmable logic circuit) and offers door speeds up to 30 inches per second.
Features
All TNR industrial rubber roll-up doors feature:
1/4 " SBR rubber, polyester core weave
reliability in temperatures -40ºF to +180ºF
Patented NEWGEN Guide and Curtain Lok System. After an impact the door is up and running in minutes.
Sleek profile, easy installation, reduced clearances & minimal maintenance. No hinges, cables, pulleys or tension springs.
2 year warranty parts and workmanship
Limited lifetime warranty on curtain and NEWGEN Guide System.